Početkom juna u bisokope stiže jedan, moglo bi se reći, spektakl. The Troll Hunter.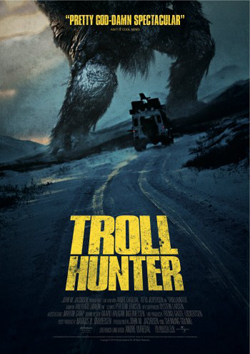 U pitanju je norveški horor film koji je režirao Andre Ovredal , a u glavnim ulogama su: Otto Jespersen, Tomas Alf Larsen, Hans Morten Hansen.  U filmu pratimo grupu studenata u poduhvatu u raskrinkavanja navodne zavere norveške vlade koja od javnosti krije činjenicu da na severu Norveške žive trolovi.
Film je snimljen u stilu dokumentarca, tako da je prva asocijacija dok sam gledao trejler bio film The Blair Witch Project, u kome se neprijatelj nije mogao videti, ali se njegovo prisustvo moglo naslutiti. Rezultat:  jeza i velika zarada na blagajnama. Trolovi su ovde ogromni, a njihov se bes svakako može videti i osetiti. Ostaje nam da sačekamo 10. jun kada je zakazana premijera.
I još nešto. Kroz film se provlači zanimljiva teza. Trolovi mogu namirisati hrišćane koje isključivo napadaju.