The Artist (2011)
Široj javnosti do sada nepoznat, francuski reditelj Michel Hazanvicius se nakon omaža detektivskim filmovima iz '60-tih i '70-tih godina prošlog veka, opredelio za složeniji pristup filmu, kao i za složeniju tematiku. The Artist je skoro u potpunosti nemi, crno-beli film koji govori o važnom trenutku u istoriji filma – prelasku iz neme u zvučnu eru. Realizacija ove zamisli se Američkoj filmskoj akademiji očigledno dopala jer je film nominovan u 10 kategorija na ovogodišnjoj dodeli Oskara, koja sledi krajem ovog meseca (26.2.2012).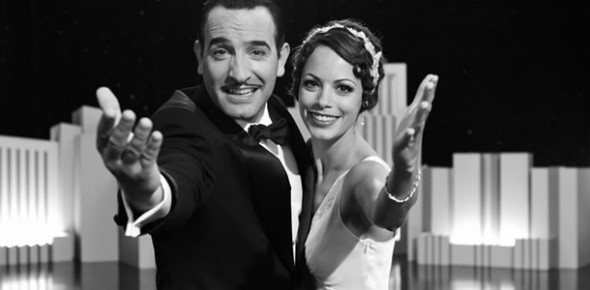 Radnja filma je smeštena u Holivud kasnih '20-tih godina XX veka, a u centru pažnje je zvezda nemih filmova George Valentin (Jean Dujardin), koji ne prihvata novi zvučni film i odbija da učestvuje u istom, što dovodi do njegove profesionalne i privatne propasti. Pred sam kraj neme ere pojavljuje se buduća zvezda, Peppy Miler (Berenice Bejo), glumica kojoj na početku karijere pomaže Valentin, da bi ga ona polako potpuno istisnula iz sveta filma. Iako je Valentin oženjen između glumaca se javljaju simpatije. Vremenom Valentin ostaje bez imovine, novca i vere u sebe, dok se sa Peppy dešava suprotno – postaje zvezda tj. slava koju je nekad Valentin imao sada je njena. Ova situacija dovodi do udaljavanja glumaca, koji ipak ostaju povezani tokom godina, a ta povezanost se vremenom povećava i postaje središte filma.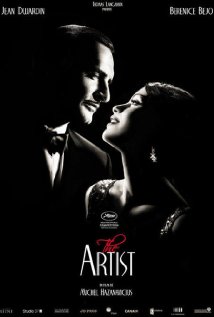 Romantična drama The Artist je od strane mnogih kritičara već proglašena za film godine, ali tu su naravno i oni drugi, po kojima film nije ispunio očekivanja. Najviše se zamera na jednostavnoj i predvidljivoj radnji koja je do sada viđena već mnogo puta, kao i to da je u pitanju samo šou kojem je glavni cilj da zabavi i ništa više. Naravno nikad nije moguđe zadovoljiti svačiji ukus ali treba poći od toga šta je režiser imao na umu, kao i to šta gledaoci očekuju od filma nagrađenog Oskarom.
Michel Hazanvicius je, kako sam kaže, ljubitelj nemih filmova i već dugo je nameravao da snimi nemi film, ali s obzirom da je ta zamisao u XXI veku teže izvodljiva, on je čekao sve dok nije naišao na producenta Thomasa Langmanna koji je verovao u isto što i on. Film je zamišljen kao oda klasicima nemog filma poput  Maurnauovih Sunrise (1927) i  City Girl (1930) kao i King Vidorovog The Crowd (1928).  Glavni glumac Jean Dujardin, nagrađen u Kanu prošle godine za ulogu u ovom filmu, najveći uzor je našao u glumcu Douglasu Fairbanksu koji je imao sličnu sudbinu kao i lik kojeg tumači Dujardin. Berenice Bejo je takođe bila inspirisana zvezdama '20-tih i '30-tih godina – Gloriom Swanson, Joan Crawford i Marlene Dietrich.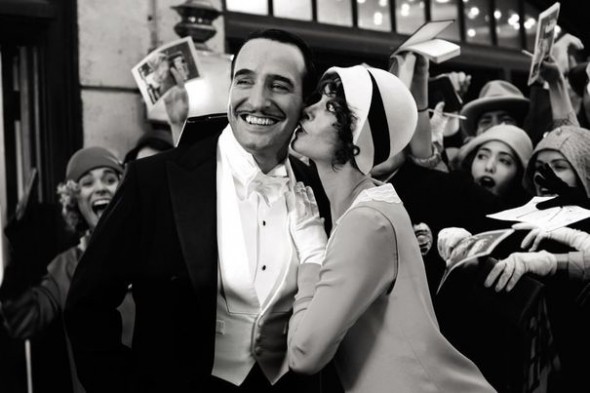 Važno je napomenuti da Hazanavicius nije zamislio neku vrstu dokumentarca, već je želeo da oda počast nemoj kinematografiji  u vidu šoa u kojem će publika uživati i zabaviti se,  tako da optužbe na taj račun mogu biti odbačene jer je režiser baš to i želeo i da postigne. Što se tiče jednostavne radnje treba uzeti u obzir da po shvatanju mnogih, u nemom filmu radnja zavisi isključivo od gestikulacije i ekspresija lica glumaca i da to smanjuje mogućnosti razvijanja same priče. Verovatno je i ova tvrdnja diskutabilna, a odgovor će najbolje dati ljubitelji i poznavaoci nemog filma kojih kod nas pretpostavljam nema mnogo.
Dakle, The Artist je pokušao da se u dobu 3D filmova vrati na nešto potpuno drugačije i približi, ne baš popularan nemi film široj publici, što zaslužuje pohvalu i verovatno nekoliko Oskara jer jeste drugačiji i jedinstven u svojoj nameri, a većinu publike će zabaviti što na kraju krajeva i jeste dosta toga što film nagrađen Oskarom treba da ponudi, dok gledaoce kojima ovo nije dovoljno očekuje filmski festival u Berlinu od 9. do 19. februara koji će, nadamo se  ispuniti i očekivanja zahtevnijih.
Autor: Timea Levai Majin
Ostali su pročitali i ovo: