Teri Pračet: Fantastika puna humora
"Previše magije bi moglo da smota vreme i prostor oko samih sebe, a to nije bila dobra vest za tip osobe koji je navikao da stvari kao što su posledice prate stvari kao što su uzroci."


Terens Dejvid Džon Pračet je engleski pisac, najpoznatiji po seriji knjiga o Disksvetu. Prvo Pračetovo objavljeno delo je kratka priča The Hades Business, objavljena u školskom časopisu kada je imao 13 godina, a zatim u časopisu Science Fantazy, 1961. godine, za koji je dobio 14 funti. Njegovo sledeće delo je bilo Night Dweller, u časopisu New Worlds, 1965. godine. Iste godine je napustio školu i počeo da radi kao novinar u lokalnim novinama Bucks Free Press. Pračet je jednom i sam izjavio: "Počeo sam da radim jednog jutra, i video sam prvi leš tri sata kasnije, ´kaljenje-na-poslu´ je značilo nešto onih dana".
Dok je radio kao novinar, poslat je da uradi intervju sa Piterom Banderom van Durenom, kodirektorom male izdavačke kuće, o knjizi koju je firma izdala. Pračet je pomenuo da je i on napisao novelu The Carpet People i tako je sve počelo.
Radio je i kao portparol kompanije za proizvodnju električne energije, u sektoru koji je pokrivao nekoliko nuklearnih elektrana. Sve se ovo završilo 1987. godine, kada je shvatio da će više zaraditi pisanjem, a i to je bilo zabavnije od pravog posla. Od tada, broj napisanih knjiga postao je dvocifren, a svaka nova knjiga ima rezervisano mesto na top listi bestselera.
Godine 1998, dobio je Orden Britanske Imperije za zasluge u literaturi. Od decembra 2007. godine boluje od Alchajmerove bolesti. Teri Pračet živi u Viltšajru, sa suprugom Lin i čerkom Rianom. Kaže da je pisanje najveća zabava koju čovek sebi može da priušti.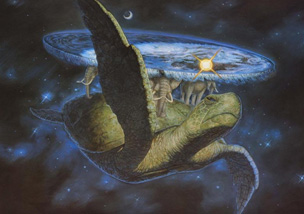 Serija romana o Disksvetu se sastoji od preko 30 knjiga, a radi se o serijalu humorističke fantastike gde se parodiraju dogadjaji u diskoidnom svetu koji rotira na ledjima četiri velika slona koji stoje na ogromnoj kornjači,  Veliki A´Tuin i pliva kroz vasionu. Glavne teme parodije uključuju mnoge naučno-fantastične stereotipe, likove iz fantazija, ideje i aluzije na filmove i knjige, na pravljenje filmova, novinarstvo, rokenrol, religiju, filozofiju, istoriju, trgovinu, državno uredjenje.
Pračet je uticao i na mnoge pisce, na primer na Sem Smita, koji želi da napiše seriju knjiga koje su slične romanima o Disksvetu. Postoji i termin "pračetsko" koji je skovan i koji opisuje Pračetov humoristički stil. I sam Pračet ne krije uticaj drugih pisaca i dela na njegovo pisanje. Uzima brojne karakteristike iz popularne kulture, ali uvek doda neki neočekivani aspekt. Njegov stil je jako prepoznatljiv, ima više obeležja koja su karakteristična samo za njegovo delo.
"Kada je on ovde, čak i nesigurnost je nesigurna. A nisam siguran čak ni u to."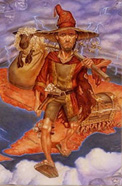 Likovi, imena, nazivi knjiga, sve ima neko dublje značenje. Neki likovi su jako prepoznatljivi, dok je za druge potrebna bolja informisanost. Na primer, Koen Varvarin je parodija na Konana Varvarina i Džingis Kana, a Leonardo od Kvirma je Leonardo da Vinči. Jedan od njegovih najpoznatijih likova je Smrt – njegov tekst je drugačije naznačen, pojavljuje se na samrti i komunicira telepatski sa ljudima. I njegov lik često dovodi do komičnih situacija, koliko gog da je njegova pojava strašna. Najveći grad na Disksvetu je Ank-Morpork. U njemu je veliki broj ljudi, mešavina svih staleža. Stražari su plašljivi, lakše beže od lopova, nego što ih jure, zanatlije i niži staleži imaju poseban način govora, što najbolje oslikavaju padeži. Jako bitni likovi su čarobnjaci, najpoznatiji je Rinsvind kome ništa ne polazi za rukom, naročito ne magija i smatra se jednim od najsmotanijih bića u univerzumu. Broj osam je srećan broj u Disksvetu, na primer, kada je reč o osmom sinu, osmog sina. A postoji i osma boja u spektru boja Disksveta – oktarin, boja magije, 'koja nastaje usled rasipanja jakih sunčevih zraka po snažnom magijskom polju'.
Pračetove knjige su do sada prevedene na 33 jezika, a veliki broj knjiga je preveden i na srpski jezik. Neki od najpoznatijih romana su: Boja magije, Jednakost rituala, Svetlost čudesnog, Veštice na putu, Sestre po metli, Straža! Straža!, Glinene noge, Duševna muzika, Maskarada, Mort, Pokretne slike, Erik i mnoge druge.

Autor: Nataša Milovanović 
Ostali su pročitali i ovo: