Čovek na ivici
Filmovi i kategorizacija su dva pojma koja prosto idu jedan uz drugi. "Čovek na ivici" spada u one filmove "koje bi trebalo pogledati"  u neko gluvo doba kada ne biste sedeli kod kuće jer vam treba malo akcije, a niste raspoloženi za ispijanje kafe u kafiću punom dima, trošenje kalorija na zumbi ili trčanje u širinu. Kraj vikenda i opuštanje pred napornu radnu nedelju ili sreda  koja će vas održati u koloseku.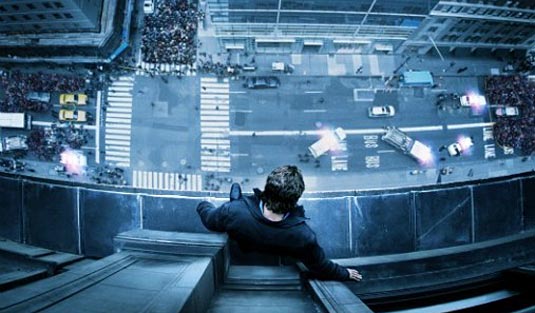 Da je "Čovek "bio" na ivici" pre milenijumske bube verovatno bi bio mnogo bolje ocenjen kod publike i kritičara, ali njegov problem je to što su filmovi "Ocean Eleven" i "Italian Job" odavno viđeni. Naravno, u pitanju je "Grad koji nikad ne spava (NYC za mlađe)" pa je prisutna i prljava strana značke. Kao šlag na torti je "Tower Heist" film koji je publika videla na bioskopskom platnu prošle godine, koji se dešava u istom gradu i ima dosta sličnosti, ali je " Čovek na ivici" snimljen kao daleko ozbiljniji i uzbudljiviji.
Ovo je prvi dugometražni igrani film danskog reditelja Asger Leta, na koji je preneo iskustvo mnoštvo kratkih filmova i dokumentaraca koje je snimio u svojoj rodnoj zemlji. Kamera je uhvatila i prenela na platno onaj stari duh arhitekture zlatnog doba Nju Jorka dvadesetih i tridesetih godina prošlog veka.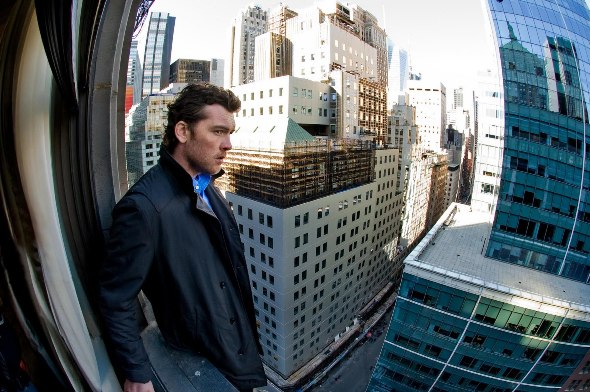 Anonimni čovek koji stoji na ivici 21.sprata poznatog hotela je zaokupio pažnju celog Menhenta. Preti skokom ako mu ne pomognu da dokaže svoju nevinost i priređuje pravu predstavu za medije.  Redak i vredan dijamant određuje sudbinu dvoje ljudi, sa tim da jedan mora da izgubi sve da bi drugi vratio svoj stari zivot. Uključuje se i porodica u priču i tada nema povratka. Pravovremenost je ono što se traži i jedino to mora da se dobije…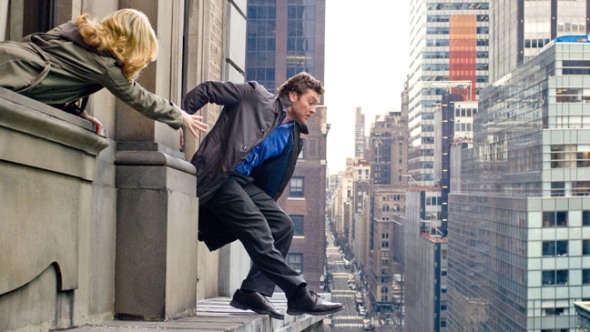 Ono što daje pravi sjaj onom filmu je odlično odabrana glumačka postava, čak su i sporedni likovi glumci  koji će uskoro verovatno dobijati sve veće filmove. Prelepa latina Genesis Rodrigez koja pleni svojim izgledom i jednostavno nije ni bitno kako glumi, dovoljno je da se pojavi. Jamie Bell je igrao u filmovima "Jumper", "King Kong I "Flags Of Our Fathers". Anthony Mackie kao 2Pac Shakur  u "Notorious"-u i trenutno snima par filmova koji su najavljeni kao veliki. Za Elizabeth Banks bi ovaj film mogao da bude prava odskočna daska za veće i zahtevnije uloge. Ima potencijala i verovatno ćemo je uskoro videti u nekoj poznatoj drami kao što svaka nova plavuša u Hollywoodu probija svoj put. Šta reći o Ed Harris-u? Po meni glumac koji podjednako dobro glumi I pozitivne i negativne likove i to je njegovo obeležje. Za kraj verovatno najbolje odabrani glumac za ovu ulogu Sam Worthington. Prvom pojavom u "Terminator Salvation" –u pokazao da može, zatim doneo brdo novca James Cameronu u "Avatar"-u, da bi u "Clash Of The Titans" pokazao  da svaki poznati glumac mora da se pojavi i u dečijim filmovima. Inače, nastavak tog filma "Wrath Of The Titans" i naša recenzija vas očekuju sledeće nedelje.
Dodajte na sve to i par "A La John McClane" vratolomija i "I Believe I Can Fly" scena i dobijate zanimljiv mix po kome je odrađen scenario.  Preplitanje drame, akcije i provlačenje romanse kroz sve to će vas držati zalepljene za (hvala Bogu sad vec skoro svugde standardizovano) udobne fotelje u bioskopskim salama. Eventualno će vas prekinuti  izgubljene kokice ili salsa sa tortilja chipsa na vašim pantalonama, ali opustite se i uživajte u filmu.
Autor: Nikola Krstić
Ostali su pročitali i ovo: