Nina Simone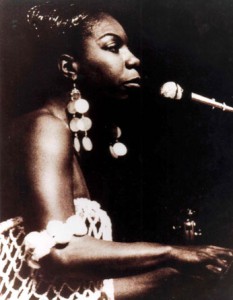 Ona je ikona američke muzičke scene sa karijerom dugačkom preko trideset godina. Njen glas je  dubok kao pitko vino i veoma strastven kao što je i ona. U Americi je bila poznata više po politički kontraverznim pesmama nego po ljubavnim, budući da se borila za prava crne Amerike i da je bila politički aktivista. S' druge strane, širom Evrope postala je poznata po pesmi "My baby just cares for me" koju je modna kuća Chanel tokom osamdesetih koristila za svoju reklamu. Lično sam prvi put čula za Ninu Simone pre tri godine, na radiju, pevala je pesmu "Here comes the Sun". Taj glas je bio nešto neverovatno i hipnotišuće, zbog čega sam samo u toj pesmi uživala nedelju dana, neprestano. Kasnije sam prešla na pesmu "Feeling Good" koja je činila da se osećam neverovatno snažno i slobodno. Njena muzika je takva, osnažujuća.
Rođena je 21.02.1933. godine u malom gradiću u Severnoj Karolini. Njeno pravo ime je Eunice Kathleen Waymon. Počela je da svira klavir  sa tri godine. Njena prva učiteljica klavira bila je Muriel Massanovitch. Nina je svirala Baha, Šopena, Bramsa i bila je na putu da postane koncertna pijanistkinja. Dobila je stipendiju od prestižne umetničke škole  Julliard u Njujorku, posle je htela da upiše muzičku akademiju Curtis u Filadelfiji ali su je odbili  zbog njene boje kože. To nije oslabilo njen duh niti je umanjilo njene želje. Eunice je počela da svira i peva po klubovima, a pošto joj je majka bila veoma konzervativna žena, promenila je ime. Prvo ime Nina  ( na španskom znači mala ) i Simone po glumici koju je volela Simone Signoret. I tako je nastala legenda.
Nikada sebe nije smatrala soul ili bluz umetnikom. Iako je napisala dosta soul pesama kao što su: Dont let me be misunderstud, I put a spell on you, Ne me quitte pas, Consummation, Do I move You  itd., govorila je da od bluza postane tužna i da je  prvo pijanista pa tek onda pevačica. Život joj je bio težak a put do uspeha dugačak. Američka muzička industrija joj nikada nije odala priznanje kakvo umetnik njenog kalibra zaslužuje,  možda upravo zbog političkih pesma kao što su "Missipi Goddamn" ili "To be young, gifted and black" koju je napisala Lorraine Hunsberry. Kasnije, Lorraine  je napisala za Ninu pesmu  "I puta a spell on you". U vreme kada se od žene očekivalo da se ponaša na određeni način da ima određeno ponizno držanje, ova pesma je govorila nešto drugo. Kazati nekome "I put a spell on you cause your mine" je moćna izjava. Život je kratak i ljude je teško upoznati, ako dobijete jednu šansu to ne znači da ćete dobiti i drugu. Kao što biva u životu, kada napreduje vaša karijera, lični život trpi a ako dobijete unapređenje to znači da je sve otišlo dođavola. Imala je dva braka iza sebe i ćerku kojoj je dala ime Simone.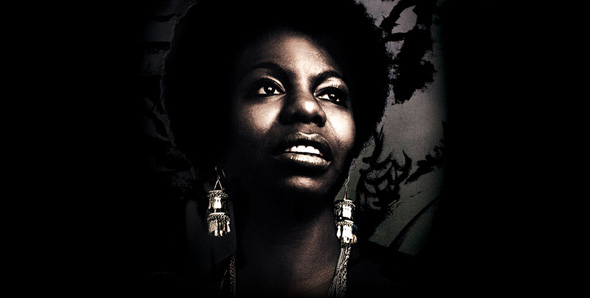 Nakon smrti Lorraine Hunsberry i Martin Luter King Jr., Nina je odlučila da ode iz Amerike. Bilo joj je dosta svega. Živela je neko vreme u Libiji, Švajcarskoj na Barbadosu i potom Engleskoj. Govorila je da su joj Libija i Švajcarska dve omiljene zemlje. Libija je njena sloboda a Švajcarska njen mir. Godine 1993. Nastanila se u mestu Carry-la-Rout blizu Aix-en-Provance na Jugu Francuske. Njena ćerka Simone je veliki muzički talenat kao što je i Nina bila.
Danas muzički svet traži umetnicu koja će imati sve u jednom paketu. Lepotu, glas, talenat… Talenat kakav je bila Nina Simone je jedan u milion. I ona nakon svih ovih godina nije dobila priznanje koje zaslužuje od muzičke industrije. Preminula je 21. aprila 2003. godine na jugu Francuske. Iza sebe je ostavila plodnu muzičku karijeru i bogat život.
http://www.ninasimone.com/about/bio/
Autor: Milena Pantić
Ostali su pročitali i ovo: