Book Slam, književnost van kutije
Stand-up večeri su sada već i kod nas standardi, a sa književnim večerima smo jako dobro upoznati. Sada, zamislite neku vrstu mešavine ova dva. I sve to uz živu svirku kvalitetnih muzičara na lokaciji koja nikada nije fiksna.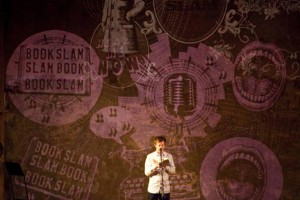 Književnik Patrick Neate (kod nas objavljeni nagradjivani romani "Veliki poglavica Tuluku i musungu Džim" i "Bluz šema") i Ben Watt (poznati producent, DJ i bivši član "Everything but the Girl"), pokrenuli su pre nekih osam godina u Londonu jednu malo drugačiju zamisao literalnih večeri. I sami ljubitelji pisane reči i dobre žive muzike mislili su malo izvan kutije i došli na ideju onoga što je sada već dobro poznato kao Book Slam večeri.
Lokacija je promenljiva stavka, kao i datumi, teoretski svakog poslednjeg četvrtka u mesecu. Mada ne mora da znači da će tako zaista i biti. Kao čedo umetnika Book Slam je sam po sebi vrlo slobodan i improvizatorski nastrojen. Ali ne dajte da vas to zbuni. Iako mesto i vreme skoro nikada nisu tačno utvrdjeni unapred, cela priča dovedena je do jednog jako profesionalnog ali i prijateljskog (gotovo neverovatnog za London) nivoa.
Atmosfera je udobna i opuštena, a gosti su uvek dobrodošli da komuniciraju sa književnicima i muzičarima, uglavnom za barom.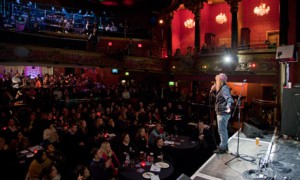 I u čemu je trik? Zašto su ovakve večeri u poslednje vreme, pravi hit u londonskim intelektualnim krugovima. Možda dobar bar, ili prijatna neformalna atmosfera. A možda i sasvim nov pristup književnosti kao jednoj od starih vrsti umetnosti. Često se sve što je staro i već dobro oprobano i ukorenjeno teško menja, tako da je i donekle književnost ostala u tim okvirima dosta dugo. Knjige su štampane za raznu publiku, a autori su uglavnom sa svojim čitaocima dolazili u dodir preko turneja u kojima bi potpisivali knjige ili književnih večeri na kojima bi bili čitani odlomci njihovih knjiga a onda diskutovano o tome. Ali uvek u prilično formalnom i suzdržanom duhu.
Book Slam prilazi celoj priči iz malo drugačijeg ugla. Pisci izlaze na malu scenu i sami čitaju odlomke svojih knjiga/priča/pesama ili jednostavno improvizuju, a publika je tu, za stolom odmah pored bine i pruža pravu, živu i vatrenu interakciju. Pisci preživljavaju svoja dela zajedno sa publikom a publika im za uzvrat daje jako dobar uvid u kvalitet onoga što su napisali. A ceo doživljaj je upotpunjen nastupom kvalitetnih muzičara.
Za ovih osam godina koliko već postoji, kroz Book Slam su prošli mnogi umetnici engleskog govornog područja. A medju poznatijima na sceni su bili i Irvine Welsh (Trainspoting), Adele, Simon Armitage, Don Paterson, Zadie Smith i mnogi drugi uz veliki broj mladih ali jako dobrih umetnika.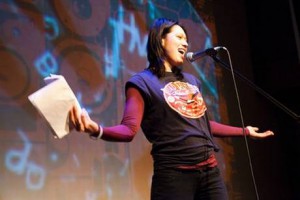 Kao kruna proteklih godina pre nekog vremena izašla je i zbirka priča nastalih na ovim večerima. "One for the Truble" je izašla relativno skoro i može se naći kao audio i elektronska knjiga, mada za stare poklonike štampne reči postoji i limitirano izdanje na papiru. Mada, možda najinteresantnije izdanje je upravo audio knjiga jer svaku priču čitaju sami autori.
Evo kako to izgleda iz Gardian ugla: "It's a monthly club-night that celebrates all forms of writing, from stories and poetry to essays and lyrics, without being boring, pretentious or exclusive – which is harder than it sounds."
I za kraj, ako planirate posetu Londonu u nekom trenutku, topla preporuka. Ako pak ne, uvek možete pratiti dešavanja i na njihovom youtube kanalu.
autor: Miljana Botunjac
Ostali su pročitali i ovo: