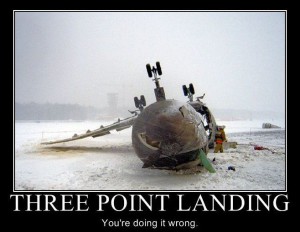 Šalu na stranu – ako ste gledali ili čitali išta o superherojima, svakako ste videli način na koji sleću/doskaču pri padu sa visine: sa jednim savijenim kolenom – ponekad i na zemlji, drugom nogom ispruženom u stranu ili unazad i jednom rukom dodirujući tlo dok se druga zabacuje takođe u stranu ili unazad – otud three-point, pošto dodiruju tlo u samo tri tačke (mada, tehnički, ako im koleno dodiruje tlo zajedno sa stopalom iste noge, onda je to four-point… al' da ne cepidlačimo). Zatim naprave kratku pauzu, dramatično pogledaju nagore u kameru i najčešće se okome na najbližeg protivnika.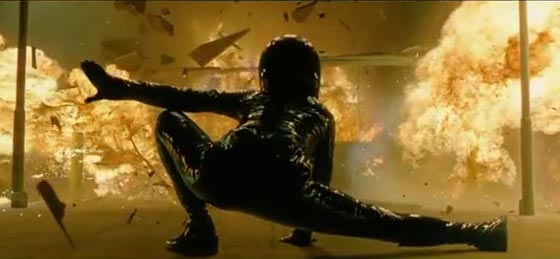 Iako se to nikad nije desilo u istoriji sveta, na filmu to rade svi – bez izuzetka – i "domaći" i oni vanzemaljskog/radijacijskog porekla. Mada, tu se otvara tema za diskusiju o opstanku čašice na kolenu kod onih "domaćih", bez neuništive kože i skeleta, ili barem nekog vidljivog dela oklopa na kolenu – naravno, ako bismo uneli realnost u filmove o superherojima, onoliko koliko to filmovi dozvoljavaju. Kako god, takvih scena smo se nagledali u nebrojenim filmovima.  Nagledao ih se i Dankan Robson, koji je sastavio klip od rezova iz filmova sa nekim od najboljih scena – od Iron Man-a do Sucker Punch-a. Uverite se i sami:
Morate da priznate da je sjajno to uradio, i da se pitate "Šta je sledeće?"
Originalnu verziju članka možete pogledati ovde.
Prevela i adaptirala: Vesna Sunrider