Subota, 15. septembar, 21h – KC GRAD
Dirty Beaches (Vancouver) – Bandcamp
Stray Dogg (Beograd) – Bandcamp
Tough Guys of America (Beograd) – Bandcamp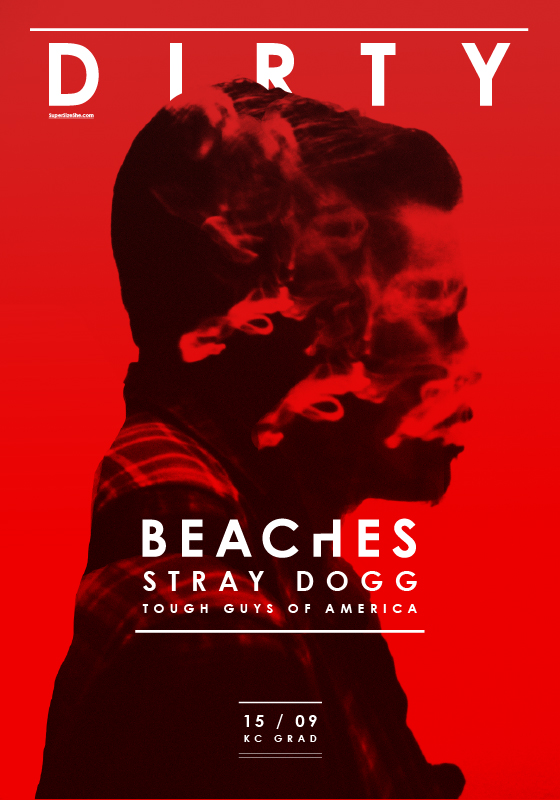 Dirty Beaches je Alex Zhang Hungtai, mistični transpacifički nomad istorije rastrzane ismedju Tajvana, Toronta, Honolulua, Montreala i Vankuvera.
Njegov izraz, kao što je to slučaj sa mnogim harizmatičnim solo izvodjačima, toliko je ličan, kompaktan i autentičan da ga je skoro neumesno opisivati ustaljenim jezikom muzičke kritike. Ako ste početkom 2011. naleteli na neku od mnogobrojnih recenzija njegovog do sada najznačajnijeg ostvarenja – albuma Badlands, nije bilo teško zaključiti da se dugo nije pojavilo izdanje o kome se pisalo toliko slikovito i nadahnuto. Olako bi ovu muziku mogli spakovati u koš poslednjih godina eksplodirale lo-fi scene. Ali, specifična atmosfera i filmičnost koju ona nosi nagnale su mnoge da opis potraže u estetici velikana pokretne slike kao što su David Lynch, Jim Jarmusch, Quentin Tarantino, Wong Kar Wai, pre nego u bilo kojoj epohi isorije popularne muzike…Alexu će predstojeći koncert biti prva poseta Beogradu na njegovom neprestanom putu oko sveta, a septembarska turneja prva na kojoj će u Evropi nastupati uz podršku drugih muzičara na bini.
Pre Dirty Beaches nastupiće beogradske skupine Stray Dogg i Tough Guys of America. Jedni tih dana pred kraj, drugi koju nedelju pred snimanje svojih drugih po redu izdanja.
Prvi set od 50 karata za ovaj koncert naći će se u pretprodaji od 23. avgusta po ceni od 500 dinara. Ostale karte će u pretprodaji kostati 650 a na dan koncerta 800 dinara. Karte se mogu naći na šanku KC Grad i prodavnici ploča Pinball Wizard (Makedonska 30).
Organizacija
by KC GRAD