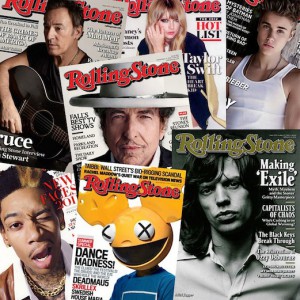 Kraj kalendarske godine je prilika da se svedu računi i naprave "the best of" liste. Verovatno najpoznatiji muzički časopis, Rolling Stone, objavio je listu 50 najboljih albuma u ovoj godini, i evo kako ona izgleda:
Prvo mesto zauzeo je Bruce Springsteen ("Wrecking Ball") i time dokazao da i te kako još uvek ima šta da kaže. Sa svojim E Street bendom snimio je 17. album, sa donekle prepoznatljivim temama, kao što su ekonomija, problemi radničke klase, opšte stanje u Americi koje mogu prepoznati i ljudi iz drugih država, i to je ono što ga čini prihvaćenim u celom svetu, činjenica da se mnogi mogu poistovetiti sa onim o čemu The Boss peva.
Na drugom mestu je Frank Ocean sa albumom Channel Orange. On je ove godine izazvao razne reakcije kada je otkrio da je homoseksualac, i to baš negde u vreme objavljivanja ovog albuma, koji se sasvim zasluženo našao na ovoj poziciji.
Treći je Jack White i njegov prvi solo album "Blunderbass", koji je muzički i tekstualno miks svega i svačega. Sveže razveden, predočio je svoje viđenje ljubavi kroz pesme.
Broj četiri zauzima legendarni Bob Dylan sa svojim jubilarnim 35. albumom, i time pokazao da ga nikada ne treba otpisati. "Tempest" je ujedno i pesma koja govori o propasti Titanika, a sem ove, treba izdvojiti i "Soon After Midnight" u kojoj govori o svom protivniku (u borbi za ljubav jedne žene) i kaže kako će "vući njegov leš po blatu", a tu je i jedna pesma posvećena Džonu Lenonu. Pedeset godina nakon svog prvenca, Dilan je i dalje na vrhuncu.

Na petom mestu je Fiona Apple sa "The Idler Wheel is Wiser…", albumom koji je ispunjen njenim prodornim glasom. Muzika je svedena i akustična, ujedno čudna i divna. Ovo izdanje čini da "biti živ" zvuči zastrašujuće i van kontrole, kao što je često i slučaj.

Sledi ostatak liste::
06: Kendrick Lamar – good kid, m.A.A.d city
07: Edward Sharpe and the Magnetic Zeros – Here
08: Green Day – Uno!
09: Japandroids – Celebration Rock
10: Neil Young and Crazy Horse – Psychedelic Pill
11: Mumford & Sons – Babel
12: Jimmy Cliff – Rebirth
13: Leonard Cohen – Old Ideas
14: Best Coast – The Only Place
15: Dr. John – Locked Down
16: Cat Power – Sun
17: John Mayer – Born and Raised
18: Nas – Life Is Good
19: Band of Horses – Mirage Rock
20: Killer Mike – R.A.P. Music
21: Cloud Nothings – Attack on Memory
22: Bonnie Raitt – Slipstream
23: Divine Fits – A Thing Called Divine Fits
24: G.O.O.D. Music – Cruel Summer
25: Donald Fagen – Sunken Condos
26: Django Django – Django Django
27: Gary Clark Jr – Blak and Blu
28: Beach House – Bloom
29: Dave Matthews Band – Away From the World
30: Azealia Banks – 1991
31: Taylor Swift – Red
32: Hospitality – Hospitality
33: Grimes – Visions
34: Alabama Shakes – Boys & Girls
35: Grizzly Bear – Shields
36: Bobby Womack – The Bravest Man in the Universe
37: Justin Townes Earle – Nothing's Gonna Change the Way You Feel About Me Now
38: Titus Andronicus – Local Business
39: Passion Pit – Gossamer
40: Escort – Escort
41: The Avett Brothers – The Carpenter
42: Allo Darlin' – Europe
43: fun. – Some Nights
44: Garbage – Not Your Kind of People
45: Rick Ross – Rich Forever
46: Muse – The 2nd Law
47: Todd Snider – Agnostic Hymns & Stoner Fables
48: The Smashing Pumpkins – Oceania
49: Amadou and Mariam – Folila
50: Dirty Projectors – Swing Lo Magellan
Šta je ono što ste vi najviše slušali tokom 2012. godine?
priredila: Bojana Zrnić